Tot sobre / Todo sobre / Tout sur / All about Barcelona
Jaume Vidal i Pep Brocal / Norma Editorial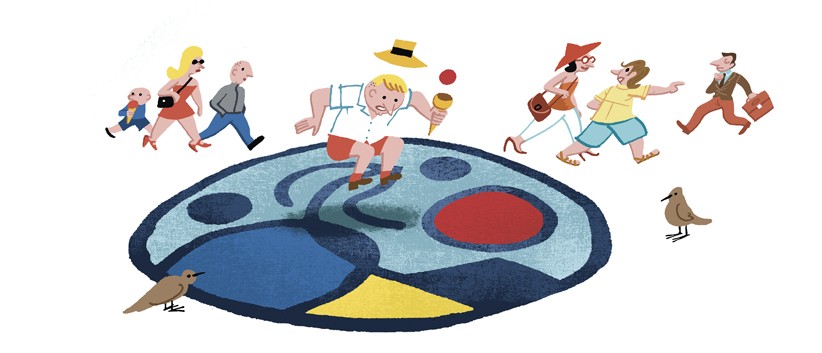 No es una guía de viajes. Tampoco un libro ilustrado. Ni un anecdotario. Pero tiene un poco de todo, es una invitación a pasear por la ciudad de Barcelona, su arquitectura, historia, personajes, anécdotas y tradiciones más populares. Y también por algunos de sus rincones más secretos. Un libro que invita a perderse en los detalles y a sonreír en cada página, y un bonito recuerdo para todos los visitantes y amantes de la ciudad sea cual sea su edad.
Incluye un prólogo de todo un icono de la ciudad, el auténtico y querido personaje Pinotxo, del Mercat de la Boquería.

No és una guia de viatges. Tampoc un llibre il·lustrat. Ni un anecdotari. Però té una mica de tot, és una invitació a passejar per la ciutat de Barcelona, la seva arquitectura, història, personatges, anècdotes i tradicions més populars. I també per alguns dels seus racons més secrets. Un llibre que convida a perdre't en els detalls i a somriure a cada pàgina, i un bonic record per a tots els visitants i amants de la ciutat sigui quina sigui la seva edat.
Inclou un pròleg de tota una icona de la ciutat, l'autèntic i estimat personatge Pinotxo, del Mercat de la Boqueria.



It is not a travel guide. Neither an illustrated book. Not an anecdotary. But it has a bit of everything, it is an invitation to stroll through the city of Barcelona, its architecture, history, characters, anecdotes and more popular traditions. And also by some of its most secret corners. A book that invites you to get lost in the details and to smile on every page, and a beautiful souvenir for all visitors and lovers of the city whatever his age.
It includes a prologue of an icon of the city, the authentic and beloved character Pinotxo, from Mercat de la Boqueria.